Meet Dr. Diane Schwab
Chiropractic Can Be Life Changing
Dr. Schwab knows personally the life-changing difference chiropractic care can make. From a very young age, she suffered migraine headaches. Although she took medicine for years, she didn't experience freedom from her pain until she visited a chiropractor at 18. She hasn't required medication since.
Becoming a chiropractor was a way for Dr. Schwab to help her patients experience that same natural approach and freedom from pain.
Unique Experience and Skills
Dr. Schwab brings a unique set of skills and experiences to her patients. Not only is she a chiropractor, but she has also been a nurse for nearly 20 years. Dr. Schwab specializes in family, maternity, and pediatric chiropractic care. She is certified in the Webster Technique.
Dr. Schwab also served as a medic in the Air Force Reserve and Army National Guard for a total of 10 years. Her husband recently retired after 22-plus years of active military duty.
Dr. Schwab has a heart for service, whether she is serving her patients, her community or her country; she is motivated to help people feel better and experience life to their fullest potential.
Mission Trip to Africa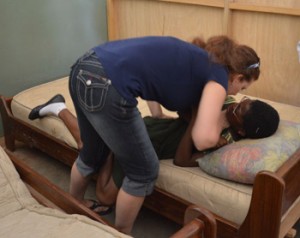 Besides her own life-changing story, one of Dr. Schwab's favorite stories involves a little girl she met in a village while on a mission trip to Africa. This little girl could not bend over at the waist when she was brought to Dr. Schwab. She was in a lot of pain and was very scared. Even without a proper table for her to lie down on, Dr. Schwab adjusted her, and the little girl was able to bend over and touch her toes without pain. "I will never forget her face," said Dr. Schwab.
These types of experiences fuel Dr. Schwab's passion for helping people find natural solutions to their problems. There is no greater reward than to see her patients feeling better and walking away with a smile on their face.
Outside the Office
When Dr. Schwab is not seeing patients, she stays busy as the mom of three daughters, the youngest of whom is an aspiring actor. Dr. Schwab also loves the beach and the therapeutic effects of the ocean.
She is also active in her community and her profession through various memberships:
Military Spouses' Society of Virginia board member
Restoring Life Missions founder
International Chiropractic Pediatric Association (ICPA)
Would you like to enjoy optimal health and a higher quality of life? Contact us today to schedule an appointment!

Restored Life Wellness Center, PLLC | (757) 867-1046